Featured Courses
Our training delivers knowledge, tools and methodologies that you can apply to your business. Our experts share their knowledge through case studies and interactive learning methodologies so that you can inform your business risk management and strategy.
We're back in-person!
Join our Yordas experts in Forchheim, Germany for a 2-Day Classroom on Global "REACH" Strategies and Tools for Chemical Compliance.
Learn and Engage with Yordas
Our thought-leaders and technical and scientific experts can help you anticipate and manage upcoming risks and changes, as well as develop your know-how.
Why choose our training?
Our integrated training solutions are relevant, up-to-date and interactive. Our training is outcome-centric: you will come away with knowledge, tools and methodologies that you can apply to your business. Through case studies and interactive learning methodologies, you will be able to use your learning to inform your business risk management and strategy.
Drive innovation within your business

Understand your regulatory requirements

Discover new tools to manage compliance

Become more efficient

Opportunities for you and your employees
Principal Sustainability and Knowledge Transfer
Elisabeth Luther
Elisabeth is an environmental regulatory specialist with more than a decade of experience in environmental regulations, project management, regulatory compliance and sustainable project delivery. She is currently leading the Sustainability and Knowledge Transfer business unit, where she oversees the delivery of government funded projects, tenders, training and sustainability services. Elisabeth is passionate about knowledge transfer and stakeholder engagement. Her experience in project management and scientific communication ensures impactful training courses for our clients and partners.
Managing Regulatory Consultant
Mark Earnshaw
Mark is an experienced Managing Regulatory Consultant with a demonstrated history of supporting a wide range of chemical companies. Skilled in EU REACH Registrations, supply chain communication, training and audits, Safety Data Sheets, CLP. Strong legal professional with a PhD focused in Environmental Chemistry from Lancaster University.
Sustainability Consultant
Damon Waterworth
Damon joined Yordas Group after completing his Masters in Energy and Environment at Lancaster University. Damon leads the development and delivery of Life Cycle Assessment (LCA) and Management System and Auditing (MS&A) services.
Knowledge Transfer Manager
Jodie Kershaw
Jodie is responsible for the implementation of a global training strategy and in the delivery of large government funded projects. She works as part of the Knowledge Transfer Business Unit to deliver the marketing and communication activities associated with training and dissemination projects.
Regulatory Consultant
Michael Wolfe
Mike joined the Yordas Group after completing his PhD at McMaster University in Hamilton, Ontario. Working out of our Canadian office, his expertise is focused on North American Chemical Acts and Regulations such as the Canadian Environmental Protection Act (CEPA) and the US Toxic Substances Control Act (TSCA). This expertise is exemplified through delivery of New Substance Notifications (NSNs) in Canada and assistance with Premanufacturing Notices (PMNs) in the US In addition, Mike has experience working with pesticide registrations through the Pest Control Products Act (PCPA) in Canada.
Principal: Product Stewardship
Dr Sandra Meijer
Dr Sandra Meijer (PhD, Environmental Chemistry) is a recognised expert on chemicals management and product stewardship. Dr. Meijer developed the Group's highly regarded Yordas Hive suite of regulatory compliance tools for industry, as well as industry specific tools such as GRMS2 for the automotive industry. Sandra has extensive knowledge on how global chemicals regulations impact supply chains, with a particular expertise in the advanced manufacturing sector. She has delivered numerous training workshops for industry on topics such as REACH, Regulatory Inspections, Substances of Very High Concern, etc. and works closely with industry bodies such as ACEA and IAEG. Sandra believes passionately that product stewardship is about harnessing the power of data to move beyond simple compliance to build a more sustainable business.
Senior Hazard Communication Consultant
Fiona Moir
Fiona Moir is an experienced Safety Data Sheet author who can correctly classify substances and mixtures to the CLP regulation and other global classification systems. She compiles globally compliant product labels, including aspects of additional regulations such as the Biocidal Products Regulation, Detergents Directive and the Aerosols Dispensers Directive. She has been delivering Hazard Communication training to professionals in a wide range of industries.
info@yordasgroup.com
Dr Giselle Vincett
Giselle heads Yordas Group's North American operations, leading on customer engagement, business development and thought leadership in the region. She has a background in academic social science research and teaching with an emphasis on qualitative and social action research methods. She has conducted and managed both small and large scale research projects and was Mercator Research Fellow at the University of Leipzig, Germany. She holds a PhD from Lancaster University in the UK.
Senior Sustainability Consultant
Dr Stella Stoycheva
Stella leads the Sustainability Division at Yordas Group and provides consulting in the areas of sustainability strategy, reporting and stakeholder engagement. She also plays a key role in the EU Funding Division of the company where she is actively involved in large scale EU funded research projects on risk assessments of key enabling technologies (e.g. nanomaterials). She holds a PhD and a MPhil degrees in Management Studies from the Ca' Foscari University of Venice, Italy.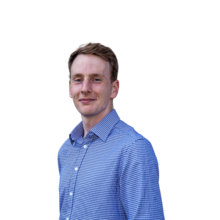 Chemistry Consultant
Max Moseley
Max is a chemist who drives the sustainable chemicals management services. He specialises in the field of green chemistry and also works on the characterisation of substances under REACH legislation. He has a Masters degree in Green Chemistry and Sustainable Industrial Technology from the University of York.
Regulatory Consultant
Dr Zainab Ahmad
Dr Zainab Ahmad is a regulatory consultant as part of the Yordas Product Stewardship business unit. Currently, she works as part of the regulatory monitoring team with a focus on SCIP services. Additionally, she's responsible for Product Stewardship business development for North America across various industries, such as advanced manufacturing, auto/aerospace, air filtration, and electronics. Zainab has a PhD in Chemical Biology from McMaster University.
Chemistry Consultant
Dr Emma Miller
Emma is an experienced PhD chemist with over 15 years' experience in the chemical industry. During this time, she has worked in research and development in the pharmaceuticals and speciality chemicals sectors. Her specialist area is organic chemistry with considerable experience in the characterisation of highly complex materials for regulatory purposes. Emma has played a key technical role in several major biocides projects, in particular those involving in situ generated actives.
Principal: Science
Dr Rosalinda Gioia
Rosalinda is an internationally recognised expert on ecotoxicology and is highly experienced in understanding chemical regulations. She has provided expert scientific advice and policy support to government regulators on chemical risk assessments relating to the oil & gas industry, for which she has authored technical bulletins and papers to the annual meeting of OSPAR's Offshore Industry Committee (OIC). Rosalinda project manages REACH Lead Registrations and Biocides active substance approval and product authorisation dossiers. She also provides technical leadership and advice relating to the environmental fate of chemicals, persistence, bioaccumulation and toxicity (PBT) and risk assessments in the aquatic environments
Senior Regulatory Specialist
Dr Neil Hunt
Neil has worked on a range of EU funded projects investigating risk assessment of nanomaterials. He is a member of the Partner Expert Group supporting ECHA with the development of guidance documents for the REACH registration of nanomaterials. Neil has presented at global conferences and authored book chapters on the topic of regultory complaince around nanomaterials.
Senior Regulatory Consultant
Joanna Matthew
Jo is a senior regulatory specialist with 19 years experience in the chemical and environmental sectors. With extensive experience of the automotive, aerospace and advanced manufacturing industries, Jo is responsible for co-ordinating custom projects relating to horizon scanning and emerging regulations, regulatory fact sheets and summaries, global monitoring services and custom software development. Jo is also experienced in the field of consumer products regulations, including the compilation and maintenance of Restricted Substances Lists and Manufacturing Restricted Substances Lists.
Regulatory Consultant
Dr Kamran Shekh
Dr Kamran Shekh joined the Yordas scientific team in 2020. He comes to Yordas with a solid mix of human toxicology and ecotoxicology research and consulting experience. A problem that Kamran worked on as a Regulatory Toxicologist for a client while working as a consultant, prompted him to return to pursue a PhD on the physiological, biochemical, and molecular basis of species-specific differences in the toxicity of metals. This work was followed by research at the Faculty of Medicine at the University of Alberta. At Yordas, Kamran provides his expertise in the areas of hazard and exposure assessment in the context of REACH and CLP.
Senior Regulatory Consultant
Sophie Guinard
Sophie leads the development and delivery of chemical notification services globally, including in Asia, the Americas, the Middle-East and Russia. Sophie's expertise lies in researching new notification systems, setting up and coordinating new services, delivering training and regulatory auditing. Sophie holds an MSc in Environmental Science from Lancaster university.
If you have any queries, please get in touch